Frictionless Point of Sale
Our software simplifies the purchasing process for everyone.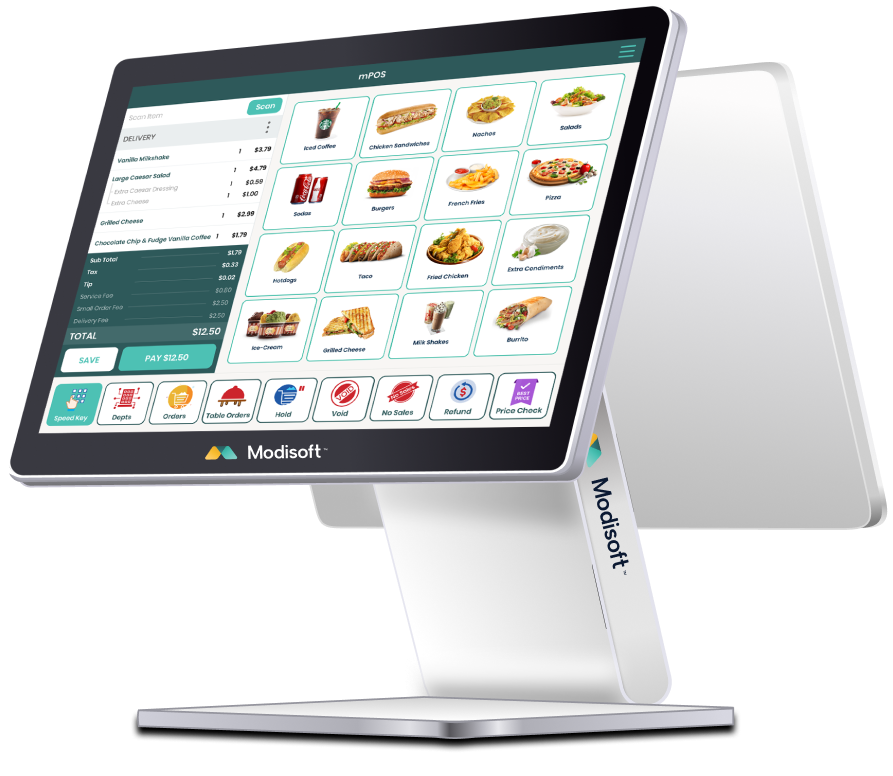 Modisoft offers a point of sale system that incorporates all of your sales needs as well as back office functionality.
Securely conduct banking transactions anytime and anywhere.
Transforms the dining experience with fully customizable menu boards.
Receive real-time sales data and analytics to help you make informed decisions and drive revenue growth.
Our POS system includes controls and compliance features, including age verification and ticket tracking, for accurate and secure lottery sales management.
Create customized loyalty programs, track customer behavior, and offer targeted rewards for repeat business.
Level up your Payroll process by automating calculations, tax filings, and payments, reducing errors and saving time.
Easily manage pricing and promotions for products and services, with the ability to set customized pricing rules, discounts, and happy hour specials.
Get fast and powerful reports on your daily sales, inventory and more.
Gain valuable insights into sales trends and customer behavior, with real-time data on inventory, sales, and customer preferences to inform strategic decision-making.
Utilize our Kitchen Display System (KDS) for efficient order management, real-time communication, and improved coordination between kitchen staff, ensuring timely and accurate food preparation.
Upgrade your business payment system for improved customer experience.

Modernize your payment system to meet the technological expectations of today's customers

Our equipment is straightforward by design and effortless to install

Simplify the payment process for your customers and allow them to pay with ease
Why Choose Us as Your Point-of-Sale Solution!
Live Sales
Instantly view full transaction receipts from your registers directly on your phone and on your PC.
Customizable Menu
Adjust or overhaul your menu as much as you like, thanks to our intuitive and flexible systems.
Reliable Quality
All our tools, whether hardware or software, are durable and dependable - performing exactly as you need, every single time.
ePrint
Print checks for vendor payments with no fuss. Modisoft's system automatically updates your records and keeps the books balanced.
EDI
Streamline your vendor interactions with our Electronically Delivered Invoice (EDI) system.
Kitchen Display System
View and track orders the moment they come in, and easily update order status once finished.
Kiosk
Your customers can enjoy our POS system too, as they place orders through an intuitive Kiosk system.
Daily Reconciliation
Get the full picture of your daily outcomes, from profits to inventory adjustments.
Multi Location Capability
Easily manage multiple storefronts with the ability to watch sales activity at each location at any given time.
Accept payments anywhere and revolutionize your business.

Turn your iPhone into a mobile payment terminal with our POS solution

Accept credit and debit card payments on-the-go, whether you're at a trade show, on-site with a client, or simply away from your location

For on-the-go business - Checkout via mobile device is becoming increasingly popular because it's ideal for everything from deliveries to convention stalls.

Enjoy secure transactions and real-time reporting, with no need for additional hardware or complex setup
Transform Your Business with an iPad-Based Point of Sale System.

Whether you have a fixed storefront or need to take your sales on the go, our POS solution on an iPad offers the flexibility you need

With just a tablet and a WiFi connection, you can process sales from anywhere, anytime, with ease

Keep your sales counter clutter-free, as the iPad-based POS system eliminates the need for additional equipment

Enjoy the simplicity and convenience of an all-in-one solution, without the hassle of managing multiple hardware components
Paying is Easier With Modisoft
A flexible system that's always adapting to your needs. Your Modisoft experience is tailored to your business no matter what your niche is.
Convenience Locations will benefit from
Grocery Locations will benefit from
Liquor Locations will benefit from
Café & Bakeries will benefit from
Fast Food chains will benefit from
Full Service restaurants will benefit from
Fast Casual restaurants will benefit from
Smoke Shops will benefit from
Enjoy the confidence that comes from using top-of-the-line equipment for your business operations. Our modern and dependable solutions are compatible with any third-party systems you may require.
Contact our customer support
Learn which Modisoft products fit your company the best or start a chat with our colleagues on any other topic.